Senarai Kedai
AWAS! Berhati-hati dengan maklumat palsu yang menular di Media Sosial seperti Whatsapp, Facebook, Telegram dan sebagainya. Elakkan daripada menekan pautan/link tersebut dan jangan dedahkan maklumat peribadi anda. Untuk sebarang pertanyaan atau pengesahan maklumat, sila hubungi talian MyKasih di 03-7720 1800 atau emel info@mykasih.com.
Welcome to
MyKasih
Established in 2009 by Tan Sri Dr Ngau Boon Keat and his wife Puan Sri Jean, MyKasih Foundation is a non-profit organisation with a mission to help impoverished families and students.
Our flagship 'Love My Neighbourhood' food aid programme and 'Love My School' student bursary scheme both use a proprietary technology to channel aid to targeted beneficiaries in a cashless manner. All disbursements are effected through the use of the Mykad (the chip-based identity card issued to all Malaysians) or the smartcard, which enables us to distribute aid in an efficient, transparent and secure way, without any leakages. Read More
MyKasih's cashless welfare distribution system has been successfully adopted by ministries, state governments, zakat agencies, as well as the private sector for their corporate responsibility initiatives. We team up with health bodies and social-purpose organisations to conduct health screening and vision checks, skills and entrepreneurship training, as well as educational assistance to communities and children.
We believe that true community spirit can change the world, starting with one empowered neighbourhood at a time. We hope you will be inspired to join us on this meaningful journey of serving humanity by donating to support the cause.
* All cash donations to MyKasih Foundation are tax-exempt.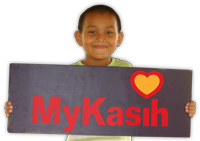 To make a donation
Please Click Here!